"Wood Creek is a Desirable and Welcoming
Residential Community of Townhomes
Located in Pittsford, NY"
 OF INTEREST TO RESIDENTS
Variance Procedure & Form (Revised Sept 2019)
______________________________________

The next Board meeting is Thursday, December 19th, 2019, 4 pm in the Spiegel Center, Room 207 (note: this is a room change).
Please note:  All future meetings are scheduled on the third Thursday of each month unless otherwise specified.
__________________________________________


Wood Creek Homeowner's Directory has been updated and is current as of September, 2019.  You will find it on the Residents' Login page.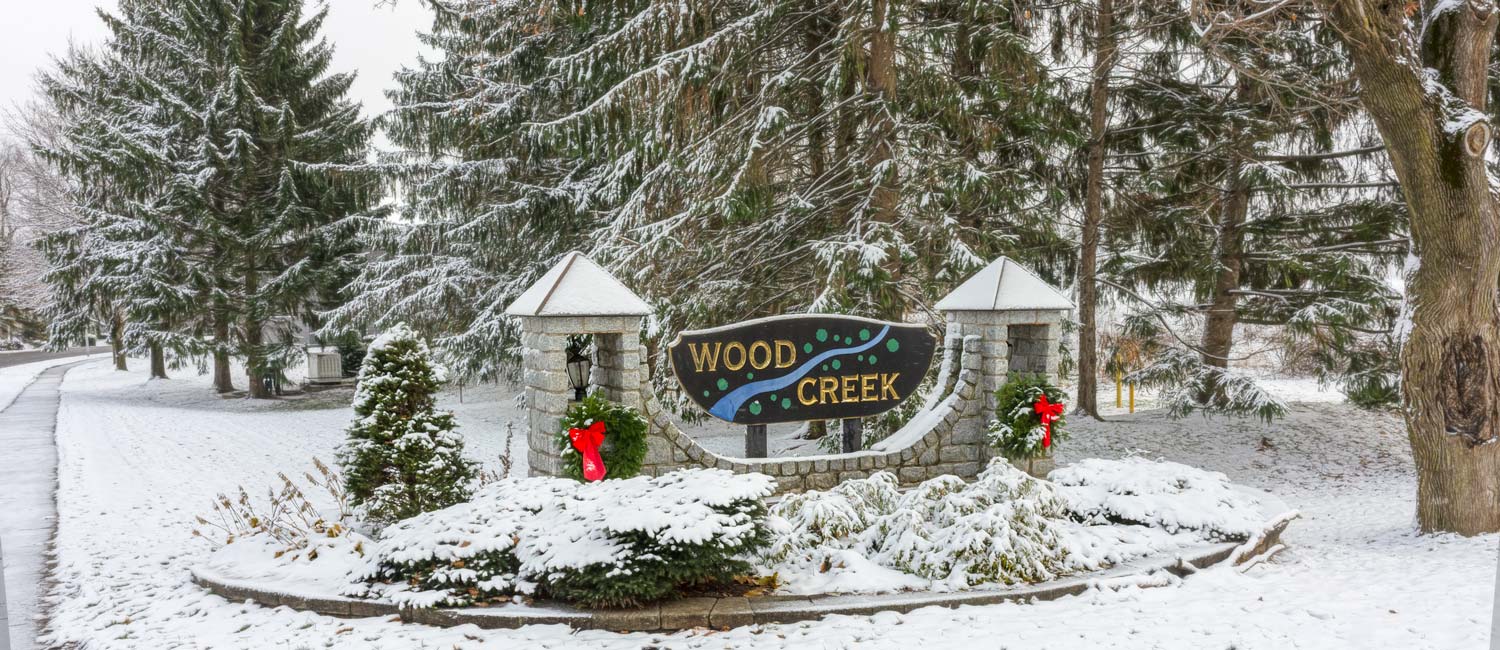 COMMUNITY NEWS and UPDATES
Directions
Click on any + sign to read an article.
President's Newsletter
From the President's Desk……. Fall, 2019
Another season has passed and with it comes vibrant colors of Fall, cool nights and shorter days. Many of our neighbors have flown the coop to enjoy the warmer temps of the South but they always come back for the change in the seasons. The contract has been awarded for gutter cleaning and that will happen once most of the leaves are off the trees.
Snow Plowing will be with the same contractor as last year. A reminder, they will not attempt to plow a driveway if any cars are parked there.
I can't stress the importance of keeping an eye on the elderly neighbors as the weather turns and we get into the colder weather. Drive safe and beware of wet leaves on the road as the road can get slippery.
The Board held elections for its officers at its organizational meeting and elected Tom Shay as President, Joyce Haag as Vice President and Secretary, Howard Cone as Treasurer, and Chuck Minister as Asst. Treasurer. Other board members are heading up various committees. There's an old saying "more hands make for lighter work." If anyone has an interest in serving on the board please notify a board member; no experience necessary just good old fashion common sense and a desire to help your neighbors.
As a reminder, board meetings are held at the Spiegel Community Center the third Thursday of the month beginning at 4pm in room 204. (second floor) all are welcome.  If you are interested in addressing the board, please call Crofton and have your name added to the agenda.
In conclusion, I'd like to take this moment to say "Happy Thanksgiving" to all our neighbors. Wishing you all a very healthy and happy Holiday Season.
Warmest regards,
Tom Shay
AGENDA
Agenda will be available shortly before the meeting.
MINUTES
Wood Creek Homeowners Association Meeting Minutes are now available only on the Residents Only Page. A login is required to access the Residents page and can be requested through Ginny Quinn.                                                                            
HOA MISSION STATEMENT
Board of Directors' Mission Statement
Your Board of Directors is committed to providing the Wood Creek community with the highest quality of
service, so that you receive an outstanding value for your association fees. We will provide attractive and wellmaintained
facilities for all to enjoy and maintain property values to the best of our ability. We will deliver
courteous and professional communications and services to our community and vendors at all times.
This is a model with which we strive to carry out our responsibilities to the community. Below are our guiding
principles.
Integrity and honesty are the foundations of our actions.
Everyone is to be treated fairly, with dignity and respect.
We will promote the spirit of open communication and will listen and respond to each homeowner's request promptly to the very best of our abilities.
We encourage feedback and new ideas from homeowners.
We will operate efficiently to maintain and increase our property values.
We will work to maintain and enhance qualify of life issues in our community that may involve special events, holiday celebrations, etc.
Every homeowner is encouraged to attend monthly BOD meetings and will be treated as a special guest at all time.
We will benchmark and monitor contracts that require spending of funds to ensure the best quality results for the fairest price, and use accepted business methods to run our association.
We must always maintain and demonstrate the highest ethical standards, and always ask ourselves when making decisions; "is this legal and the right thing to do?" There is no goal worth accomplishing if it cannot be accomplished with integrity.
There is no excuse for arrogance, and there is never a reason to show disrespect for others. Our tone of voice and body language must begin with decency and fairness. We all must be known for these values.
We must confront tough problems, not avoid them and leave them for others. This is never easy, but it's what conscience demands and what leadership requires. We must keep the long view, and remind ourselves and we're here to serve long-term interests.
We should never take the honor of service for granted. Some of us will serve for a season; others will serve longer. But all of us should dedicate ourselves to serving for the betterment of our community.
We should never forget that we're part of the same team. The owners have high expectations and together we will meet those expectations.
We will manage our budget wisely and fairly.
INTRODUCTION TO CAPITAL PLAN, WOOD CREEK HOMEOWNERS ASSOCIATION
This long term capital plan for WCHOA is the beginning of a planning process which, if continued in the future, will provide great benefit to our community. This iteration of the plan in May 2016 builds on the plans of WCHOA's prior boards and provides a template for continuation of the planning process by future boards . Especially important is that this plan is accompanied by the board's approval of a resolution to be presented to WCHOA's owners for approval at their annual meeting on June 16, 2016. This resolution, if approved, will require future boards of WCHOAto prepare and present to the community annually their revisions to the community's capital plan, including identification of the capital investments needed in the community and the means such investments will be paid for. This will help to assure that our planning process is continuing and that the capital plans developed in prior years will not be lost and forgotten but rather will live on through this continuous process of planning. This continuity is very important. The members of our board regularly change because of term limits, movement of people into and out of the community and other changes over the years. It is vital that our planning process must continue in this context.
Residents may view the document on the Residents Login site from the Documents menu.
BUDGET for 2018-2019
The Board has released the budget for the upcoming fiscal year. It is available for residents to review at the
Residents Login tab
, then the Documents tab. Questions may be directed to Board members.
WHAT IS ON THE RESIDENTS LOGIN PAGE?
Financial information shared by the board
The residents directory (updated periodically)
Full board meeting minutes with all attached information
The Neighbor to Neighbor communication page where residents can post questions or information of interest to the community
Our site is password protected. However, it is always best to limit the amount of personal information you list on the web to what is necessary, such your first name and either telephone number or email address.
WHO TO CALL WITH A PROPERTY PROBLEM

Residents should call our Property Managers at Crofton Associates first. Christine Sears, Property Manager and Lisa Marie Guarino, Assistant Property Manager are your points of contact. They may be reached at 585-248-3840. Call Crofton to:
submit Work Orders (WO)
ask about the WO process
follow up on a WO you already have submitted
ask about the Variance process
follow up on a variance you have already submitted
if you have a question or concern about a contractor working in the community, or about other maintenance issues.
If you are not satisfied with the response you receive from Crofton, then contact a Board member.
TO ACCESS & TROUBLESHOOT THE RESIDENTS ONLY WEBSITE
Our Wood Creek website (www.woodcreekhoa.org) has a tab titled
Residents Login
. This password protected part of the site contains important information for our residents about our homeowners association. If you would like to register for access to the Residents Login section of the web site, you may do so by contacting Ginny by email (
ginny.quinn5@gmail.com
) with your name, address and phone number for verification purposes. Only Wood Creek HOA residents may apply.
DIRECTIONS and INFORMATION for Residents to create a login for WordPress
If you are new to WordPress and don't have an ID and password yet:
directions to set up a wordpress ID and password
If you already have a WordPress account set up but can't remember your password-You will need to know which email address you used to set the account up.
To reset your WordPress password
NOTE: If you have a change in your email address and don't remember your account password, contact Ginny Quinn to have a new account set up.
FYI
:
WordPress Privacy Policy
GOING ON IN THE TOWN OF PITTSFORD