"Wood Creek is a Desirable and Welcoming
Residential Community of Townhomes
Located in Pittsford, NY"
CURRENT HOA BOARD MINUTES
 OF INTEREST TO RESIDENTS
Variance Procedure & Form (Revised Sept 2019)
______________________________________

The monthly Board meeting for September has been changed from Thursday, September 19 to Thursday September 26,
Spiegel Community Center, Room 204, 4:00 – 6:00 pm.
Please note:  All future meetings will remain scheduled on the third Thursday of each month unless otherwise specified.
__________________________________________


Wood Creek Homeowner's Directory has been updated and is current as of May, 2019.  You will find it on the Residents' Login page.
_____________________________________________________

The Wood Creek June Newsletter is available on the Newsletter Page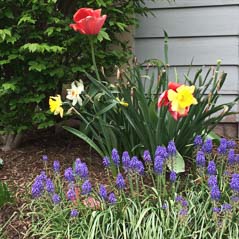 COMMUNITY NEWS and UPDATES
Directions
Click on any + sign to read an article.
AGENDA
Woodcreek Homeowners Association
Monthly Meeting Agenda @ Spiegel Community Center, Pittsford, NY
July 18TH, 2019 at 4 PM
Call to Order: President, Tom Shay
Attendance/ Directors: ( ) Tom Shay, ( ) Joyce Pluta-Haag, ( ) Will Ruby, ( ) Ginny Quinn ( ) Howard Cone, ( ) Chuck Minster, ( ) Bob Gerace
Reminders/Welcome:
Annual Meeting will be held in August 15th, 2019 to be held at the First Presbyterian Church of Pittsford @ 7:00pm/ set up @ 6pm
Guests/Open Forum:
Reading & Approval of minutes from previous monthly meeting:
Secretary's Report & Communication: Ginny Quinn
Ginny's last meeting as secretary.
Nominating Committee Report: Joyce P. Haag, Chair; Mary Ann Keegan, Deborah Bellisario, Ellen Xydias, Ellen Thiede
Report on progress with nominating committee
Roofing Committee: Joyce Pluta Haag, Chair; Emmett Miller, Keith Knight & Bob Gerace
Treasurer's Report: Chuck Minster and Howard Cone
Operations Report: Will Ruby, Chair
Property Manager's Report: Christine Sears
Response from Christine on questions brought up by Joyce of several issues regarding Kreider Chimney repairs (pictures before/after), dead tree between 4/6 CR etc…
Discussion on managers' report
Progress on issues raised during walkaround (sidewalks etc…)
Where are we with Chimney repairs
Snowplow contract
Variance Committee Report/Requests: Will Ruby, Board Liasion; Debbie Bellisario, MA Keegan, E. Clouser, Emmett Miller, Ursula Miller, Marilyn MacDonald, J. Frankelpohl, Judith Maloney
Old Business:
New Business:
Discussion on the new revised Matrix proposed by Debbie Bellisario (Chuck)
Discussion led by Joyce on Future Planning
Greenlight Proposal (to be brought up at the annual meeting)
Executive Session:
Discussion on issues that Howard has identified that pertain to Crofton. (mtg. 7/17/19) result to be discussed
Action Items:
MINUTES
Wood Creek Homeowners Association
Meeting Notes: Board Meeting, Thursday, July 18, 2019
Spiegel Community Center, Room 204
Attendance: Directors: President Tom Shay, Joyce Haag, Will Ruby, Ginny Quinn, Howard Cone, Chuck Minster, Bob Gerace
Property Manager: Christine Sears
Guests: Trish Gerace, Ellen Clouser, Ursula Miller, Maureen Shay, Dick Dennison, Jim Boyle
Meeting called to order by President Tom Shay at 4 pm.
Announcements: Tom Shay
Wood Creek HOA Annual Meeting, August 15, 2019, 7 pm at the First Presbyterian Church of Pittsford, 25 Church Street, Pittsford. Set up 6 pm.
Brewster's Ice Cream truck will be at the meeting from 6:15 until 7 pm.
Crofton will send one mailing to the community including 2018 Annual Meeting Minutes. Agenda, ballots and election materials
Stamped return envelope provided for those unable to attend annual meeting.
Ginny Quinn named proxy for all to eliminate confusion. She is to return votes to Crofton.
Open Forum/Guests moved to end of meeting.
Secretary's Report: Ginny Quinn
Chuck Minster made motion to approve Minutes of June 20, 2019 board meeting. All in favor; motion carried.
The $100 check for the use of Fellowship Hall at the First Presbyterian Church at the August 15 Annual Meeting was to be mailed directly to the church office. Ginny Quinn will confirm the receipt of the check and pick up the church key on August 14.
Nominating Committee: Joyce Haag
Inspectors of Election will be: Sandra Martin, Kathy Walsh, Ellen Xydias, Trish Gerace. Two will count votes, others to help with sign-in. Motion made by Howard Cone to accept them as Inspectors. Seconded and approved.
Roofing Committee: Joyce Haag
Joyce discussed what she will include in her roofing report at the annual meeting.
Treasurer's Report: Chuck Minster and Howard Cone
Chuck wants to renew the TCFCD which is maturing 8/7/19 and change term to six months.
Chuck asks that Christine get the rates from TCF National Bank and give to Tom Shay for his sign-off.
Received Year-End Long-Range Plan from Connie at Crofton. Chuck and Howard will meet with Connie to clarify a few items to be sure they are in "same page". Howard will ask Barb Perdue to arrange for them to meet with the auditor before and after audit.
Operation Report: Will Ruby
Will have a proposal for a new format for a report each month.
Tom Shay announced that Bartlett Tree will be on our property the week of July 22 to trim, prune and remove dead trees and over-hanging branches.
Property Manager's Report: Christine Sears
Christine reported that Wood Creek HOA closed out the fiscal year with a budget surplus.
She has contacted Ted Hosmer Lawn and Landscape and Stalteri Construction for 2019-20 snow removal bids. Bids not yet submitted.
Ontario Exteriors has not submitted their proposal for siding replacement. They were here in early July and again the week of July 8 to take measurements.
Five chimney repairs have been completed by Kreider Masonry: 153, 155, 159 and 129 Wood Creek Drive and 25 Creek Ridge. Kreider also completed inspections to all the chimneys on Winding Wood and Summer Tree. 29 still need to be inspected by Kreider. Rainberry and several on Creek Ridge are not yet inspected.
Tom will ask Kreider about chimney sealant, which is reapplied every three years.
Requesting before and after pictures of damaged chimneys
Motion to approve expense of $20,000 for Kreider to start repairing chimneys most in need as determined by Christine Sears and Will Ruby, not to exceed $20,000. All in favor, none opposed. Motion carried.
Variance Committee Report/Requests: Will Ruby
Tom Shay made the following motion:
Motion to formally accept the following as members of the Variance Committee: Will Ruby, Chair, Mary Ann Keegan, Debbie Bellisario, Ellen Clouser, Jim Frackenpohl, Judith Maloney, Marilyn McDonald, Emmett Miller and Ursula Miller. Seconded by Chuck Minster. All in favor, none opposed. Motion carried.
The following variance requests were considered by the Board:
Gerace, 48 Creek Ridge, request to provide 2-3 bags of black mulch for front gardens at homeowner expense. Approved with condition that homeowner must use dark brown mulch as required by the Board.
Gerace, 48 Creek Ridge, request to seal driveway at own expense. Driveway sealing is the responsibility of the HOA, not homeowner. This is done so the appearance of community is consistent.
Hallagan, 77 Creek Ridge, request for replacement of "street" tree which was removed by HOA. Owner requests one replacement tree, either pink or Kousa Dogwood, at HOA expense.
Comisso, 8 Summer Tree, requests removal of overgrown bushes in courtyard and replacement of courtyard tree that was removed by HOA with a Hydrangea Limelight tree. Approved with condition that HOA will contribute $150 as per standard practice; the rest is the responsibility of homeowner.
Kita, 46 Creek Ridge, request to apply mulch to gardens. Approved with the condition that homeowner use dark brown mulch as required by the Board and at the expense of the homeowners.
Miller, 81 Creek Ridge, request to remove and replace tree and all courtyard plantings between 81 and 79 CR with Yews, Weeping Cheery tree and Bird's Nest Spruce. Remove pachysandra and replace with grass. Directly in front of Unit 81, remove all pachysandra and replace with Azalea bush and Boxwood shrubs. HOA will contribute $150 for courtyard tree per standard practice, remainder at homeowner expense.
Rose of Sharon tree at 15 Creek Ridge has been removed at HOA expense.
New Business: Tom Shay
Chuck Minster thanked Debbie Bellisario, Ursula Miller and Crofton for updating the Maintenance Responsibility Matrix. When the document is finalized, the Board will vote at another time.
Discussion of Variance Form and Neighbor Awareness Form. They have been revised again and Tom Shay moved to send revised forms to Crofton for their website to ensure that the form is the same in both places to avoid confusion:
Motion that the Board accept the revised Variance form and that Ginny Quinn will replace old version and replace with new version on Wood Creek website and send to Crofton for their website.
All in favor, none opposed. Motion carried.
Tom Shay, Joyce Haag and Howard Cone will meet with Barb Perdue to discuss future needs of the community.
Open Forum
Ellen Clouser, 32 Creek Ridge, (1) Concerns about pine tree between 32 and 34 Creek Ridge. Prefers removal to pruning, as the needles are filling gutters. (Tom Shay noted that tree is scheduled to be removed next week.) (2) Drainage ditch and sink hole behind her unit. Policy 02 states that this area is the HOA's responsibility. Four of the 8 shrubs are in serious trouble. There are weeds 5-10 feet high, and a tree. There is serious water damage to her deck wall. She called Crofton 4 weeks ago, has received no return call. Christine will try to get to Ellen's house next week to repair, weather permitting.
Christine will get estimate for cost of emergency repair to hole and siding.
Jim Boyle, 89 Creek Ridge, asked to have berry trees trimmed, starting in November 2018, was told it would be trimmed in March 2019 but has not been done yet. Has problem with mosquitos and bees; Tom explained what has been and what will be done, especially as his unit is near the pond. Other issues include snow plowing and shoveling, tree near front door drops berries on sidewalk, squirrels climb up tree and get on roof and get in his attic. Wants to know who pays the $995 in expenses he incurred due to critters in his house. He was informed that inside issues were the homeowner's responsibility. Patio blocks – variance request form needed to change. Dead squirrel outside of front door. Tom Shay cancelled scheduled repair to sidewalk at 89 Creek Ridge, as it is not an issue to homeowner.
Meeting was adjourned at 6:15 pm. The Board then went into Executive Session.
Respectfully submitted,
Ginny Quinn, Secretary
HOA MISSION STATEMENT
Board of Directors' Mission Statement
Your Board of Directors is committed to providing the Wood Creek community with the highest quality of
service, so that you receive an outstanding value for your association fees. We will provide attractive and wellmaintained
facilities for all to enjoy and maintain property values to the best of our ability. We will deliver
courteous and professional communications and services to our community and vendors at all times.
This is a model with which we strive to carry out our responsibilities to the community. Below are our guiding
principles.
Integrity and honesty are the foundations of our actions.
Everyone is to be treated fairly, with dignity and respect.
We will promote the spirit of open communication and will listen and respond to each homeowner's request promptly to the very best of our abilities.
We encourage feedback and new ideas from homeowners.
We will operate efficiently to maintain and increase our property values.
We will work to maintain and enhance qualify of life issues in our community that may involve special events, holiday celebrations, etc.
Every homeowner is encouraged to attend monthly BOD meetings and will be treated as a special guest at all time.
We will benchmark and monitor contracts that require spending of funds to ensure the best quality results for the fairest price, and use accepted business methods to run our association.
We must always maintain and demonstrate the highest ethical standards, and always ask ourselves when making decisions; "is this legal and the right thing to do?" There is no goal worth accomplishing if it cannot be accomplished with integrity.
There is no excuse for arrogance, and there is never a reason to show disrespect for others. Our tone of voice and body language must begin with decency and fairness. We all must be known for these values.
We must confront tough problems, not avoid them and leave them for others. This is never easy, but it's what conscience demands and what leadership requires. We must keep the long view, and remind ourselves and we're here to serve long-term interests.
We should never take the honor of service for granted. Some of us will serve for a season; others will serve longer. But all of us should dedicate ourselves to serving for the betterment of our community.
We should never forget that we're part of the same team. The owners have high expectations and together we will meet those expectations.
We will manage our budget wisely and fairly.
INTRODUCTION TO CAPITAL PLAN, WOOD CREEK HOMEOWNERS ASSOCIATION
This long term capital plan for WCHOA is the beginning of a planning process which, if continued in the future, will provide great benefit to our community. This iteration of the plan in May 2016 builds on the plans of WCHOA's prior boards and provides a template for continuation of the planning process by future boards . Especially important is that this plan is accompanied by the board's approval of a resolution to be presented to WCHOA's owners for approval at their annual meeting on June 16, 2016. This resolution, if approved, will require future boards of WCHOAto prepare and present to the community annually their revisions to the community's capital plan, including identification of the capital investments needed in the community and the means such investments will be paid for. This will help to assure that our planning process is continuing and that the capital plans developed in prior years will not be lost and forgotten but rather will live on through this continuous process of planning. This continuity is very important. The members of our board regularly change because of term limits, movement of people into and out of the community and other changes over the years. It is vital that our planning process must continue in this context. Residents may view the document on the Residents Login site from the Documents menu.
BUDGET for 2018-2019
The Board has released the budget for the upcoming fiscal year. It is available for residents to review at the Residents Login tab, then the Documents tab. Questions may be directed to Board members.
TO ACCESS & TROUBLESHOOT THE RESIDENTS ONLY WEBSITE
Our Wood Creek website (www.woodcreekhoa.org) has a tab titled Residents Login. This password protected part of the site contains important information for our residents about our homeowners association. If you would like to register for access to the Residents Login section of the web site, you may do so by contacting Ginny by email (ginny.quinn5@gmail.com) with your name, address and phone number for verification purposes. Only Wood Creek HOA residents may apply. DIRECTIONS and INFORMATION for Residents to create a login for WordPress If you are new to WordPress and don't have an ID and password yet: directions to set up a wordpress ID and password If you already have a WordPress account set up but can't remember your password-You will need to know which email address you used to set the account up. To reset your WordPress password NOTE: If you have a change in your email address and don't remember your account password, contact Ginny Quinn to have a new account set up. FYI: WordPress Privacy Policy
WHAT IS ON THE RESIDENTS LOGIN PAGE?
Financial information shared by the board
The residents directory (updated periodically)
Full board meeting minutes with all attached information
The Neighbor to Neighbor communication page where residents can post questions or information of interest to the community
Our site is password protected. However, it is always best to limit the amount of personal information you list on the web to what is necessary, such your first name and either telephone number or email address.
WHO TO CALL WITH A PROPERTY PROBLEM

Residents should call our Property Managers at Crofton Associates first. Christine Sears, Property Manager and Lisa Marie Guarino, Assistant Property Manager are your points of contact. They may be reached at 585-248-3840. Call Crofton to:
submit Work Orders (WO)
ask about the WO process
follow up on a WO you already have submitted
ask about the Variance process
follow up on a variance you have already submitted
if you have a question or concern about a contractor working in the community, or about other maintenance issues.
If you are not satisfied with the response you receive from Crofton, then contact a Board member.
GOING ON IN THE TOWN OF PITTSFORD