"Wood Creek is a Desirable and Welcoming
Residential Community of Townhomes
Located in Pittsford, NY"
 ALERTS for RESIDENTS
The 2017 Survey Results are available to residents on the Residents Only Page on the Survey Menu. If you would like to review the reports and do not have a login yet, contact Ginny Quinn.
______________________________________________________

The Wood Creek Residents Login is restricted to Wood Creek Residents. Permission will not be given to requests that do not have proper approval. If you are a Wood Creek resident and wish to be approved for a login, please contact Ginny Quinn. For the security of residents, no access will be given without going through this process.
COMMUNITY EVENTS
SPECIAL WOOD CREEK HOA EVENTS
Special events listed here when available
REGULAR WOOD CREEK HOA EVENTS
Until the Spiegel Center renovation is complete,
Board Meetings will be held the third Thursday of every month, 4 pm,  at the Crofton-Perdue Office, 111 Marsh Road, Suite 1
The May Board meeting will be held on Thursday, May 17 at 12:00 noon at Crofton.  This is only for the May meeting to accommodate board members who are unable to attend at the usual time
Wood Creek Annual Homeowners Meeting, 

Thursday, June 21, 7 pm

 at the First Presbyterian Church of Pittsford,
25 Church St., Pittsford.  Come early – Brewster's Ice Cream truck will arrive at 

6:15

!
COMMUNITY NEWS and UPDATES
Directions
Click on any + sign to read an article.
HOW RESIDENTS CAN USE THE LOGIN TO ASK QUESTIONS AND GIVE INFORMATION
OF INTEREST TO WC RESIDENTS… Be sure to click on the Wood Creek website Residents Login page for two new entries in our Neighbor to Neighbor section.  It's a good place for you to post a friendly question, item for sale, etc.  Currently we have residents looking for interested folks to start a mahjong or bridge group, a resident whose dog walker is taking new clients, and a neighbor with a friend who is looking for a home in Wood Creek.  Check it out!
RECENT QUESTIONS and ANSWERS from the BOARD
We had 14 questions asked at the Annual Meeting which required some work before answers could be given.  Here are answers to 3 of those questions:
Q         Sealing of Driveways. A.         Driveways and roadways have been sealed. ___________________________________________________________________________________

Q.        What phase of the Siding Project are we in? A.        We are in the 4th phase of a 5 phase project.  After 2018 we will have completed our repair cycle of all units.
MAY 17, 2018 BOARD AGENDA
WOOD CREEK HOMEOWNERS ASSOCIATION
Agenda for Board Thursday, May 17, 2018
Crofton Conference Room, 12 Noon
Call to Order: By President Tom Glisson
Attendance: Directors –( ) Tom Glisson, ( ) Ginny Quinn, ( ) Kate Spencer, ( ) Will Ruby, ( )
Susan Salzman
Property Manager – ( ) Christine Sears
Guests –
Call to Order and welcome – Kate Spencer
Open Forum – 12:00 to 12:30
Variance Committee: Will Ruby – Review all requests for Courtyard Trees
Secretary's Report – Approval of April minutes
Property Manager's Report – Christine Sears – include roofing assessment and engineering
report on Retaining Wall.
Treasurer's Report, – Submittal of Long Range Plan for vote
Nominating Committee – Ginny Quinn – status on process
Operations Report
– Courtyard Pruning / planting of Linden Replacements ( review requests for full
reimbursement).
Key Initiatives
Planning for Annual Meeting
Executive Session
Adjournment
MARCH 15, 2018 BOARD MEETING MINUTES
WOOD CREEK HOMEOWNERS ASSOCIATION Notes from the March 15,2018 Board of Directors Meeting Crofton Conference Room, 4 pm
Call to Order:     President Tom Glisson Attendance: Directors –(x) Tom Glisson, (x) Ginny Quinn, ( x) Kate Spencer, ( x ) Will Ruby, ( absent) Susan Salzman Property Manager – Connie Simmons Guests – Tom Shay  Call to Order and welcome – Tom Glisson Open Forum – Question on why postcards were mailed for grilling and shrubs Answer – we received a better insurance rate by showing we alerted homeowners to hazards of grilling too close to structures. The card on pruning – this service is performed every spring and each year some homeowners express regret that the tree at their unit was overlooked.  This causes an added expense for a return trip.  This year we decided to alert all homeowners.  Our arborist still decides if, in fact, pruning is appropriate. Another cost savings. A suggestion was made on where snow might better be plowed to – Crofton to follow up Variance Committee:  Will Ruby – requests for tree /shrub work at 96 CR, 133 WC, 59 CR, 197 WC, and 129 WC.  Board has instructed Crofton on resolution of each.  Letters to go out to homeowner. Secretary's Report – Motion to approve February minutes was voted on and passed. Property Manager's Report – Connie Simmons presented draft 2018 / 2019 Budget. Crofton will insure landscape specifications are included in the contract renewals for Romig. Treasurer's Report, Kate Spencer:   YTD Status of FY2017/18 budget and LR Plan – status update on 2018/2019 budget – as of February 28, 2018, we currently are showing a positive variance to budget of $3,500. Any positive variance at June 30, 2018 will be added to our reserve. Nominating Committee –  Ginny Quinn – Review Timeline and submit proposed slate.  Establish vote counting Team.  Slate was approved and will be sent to the community  Operations Report – Will Ruby / Tom Glisson
Listening Session Schedule – April 24.  Topics: Insurance and Rental Amendment
Fire and Property Insurance Renewal – new vendor approved
Spring tree replacement – 2 trees scheduled and wood chips to be removed by May 15.
Spring tree pruning – Genesee Tree to conduct work mid-May
Roof Schedule – meeting date for planning to be set at March 29 Budget Meeting.
Key Initiatives 2017 / 2018. Amendment for Rentals –  Tom Glisson – Amendment to be presented and discussed at April Listening Session, April 24. Ad Hoc Committee Close Outs:
Shrub Maintenance – Board approved a path forward.  Details will be communicated in letter to community by April 10. Vote was unanimous in favor.
490 Retaining Wall – engineer engaged for study/recommendations – Christine will bring results to April meeting.
 Berm Maintenance – Presentation of proposals – Will Ruby, Board has requested formal quote for planting of trees and shrubs that will restrict underbrush growth and not require annual maintenance costs
 Pond Committee – Presentation of Proposals – Kate Spencer – Committee presented a well thought out 5-year plan for steps to remediate the drainage area and schedule an annual maintenance program to improve the appearance of the area as well as maintaining the functionality of the system. Summary of the actions will be communicated to community by April 10.
Executive Session Adjournment  
INTRODUCTION TO CAPITAL PLAN, WOOD CREEK HOMEOWNERS ASSOCIATION
This long term capital plan for WCHOA is the beginning of a planning process which, if continued in the future, will provide great benefit to our community. This iteration of the plan in May 2016 builds on the plans of WCHOA's prior boards and provides a template for continuation of the planning process by future boards . Especially important is that this plan is accompanied by the board's approval of a resolution to be presented to WCHOA's owners for approval at their annual meeting on June 16, 2016. This resolution, if approved, will require future boards of WCHOAto prepare and present to the community annually their revisions to the community's capital plan, including identification of the capital investments needed in the community and the means such investments will be paid for. This will help to assure that our planning process is continuing and that the capital plans developed in prior years will not be lost and forgotten but rather will live on through this continuous process of planning. This continuity is very important. The members of our board regularly change because of term limits, movement of people into and out of the community and other changes over the years. It is vital that our planning process must continue in this context.
Residents may view the document on the Residents Login site from the Documents menu.
BUDGET for 2017-2018
The Board has released the budget for the upcoming fiscal year. It is available for residents to review at the
Residents Login tab
, then the Documents tab. Questions may be directed to Board members.
TO ACCESS & TROUBLESHOOT THE RESIDENTS ONLY WEBSITE
Our Wood Creek website (www.woodcreekhoa.org) has a tab titled 
Residents Login
. This password protected part of the site contains important information for our residents about our homeowners association. If you would like to register for access to the Residents Login section of the web site, you may do so by contacting Ginny by email (
ginny.quinn5@gmail.com
) with your name, address and phone number for verification purposes. Only Wood Creek HOA residents may apply.
DIRECTIONS and INFORMATION for Residents to create a login for WordPress
If you are new to WordPress and don't have an ID and password yet:
directions to set up a wordpress ID and password
If you already have a WordPress account set up but can't remember your password-You will need to know which email address you used to set the account up.
To reset your WordPress password
NOTE: If you have a change in your email address and don't remember your account password, contact Ginny Quinn to have a new account set up.
FYI
: 
WordPress Privacy Policy
WHAT IS ON THE RESIDENTS LOGIN PAGE?
Financial information shared by the board
The residents directory (updated periodically)
Full board meeting minutes with all attached information
Specially developed Contractors List
The Neighbor to Neighbor communication page where residents can post questions or information of interest to the community
Our site is password protected. However, it is always best to limit the amount of personal information you list on the web to what is necessary, such your first name and either telephone number or email address.
WHO TO CALL WITH A PROPERTY PROBLEM

Residents should call our Property Managers at Crofton Associates first. Christine Sears, Property Manager and Lisa Marie Guarino, Assistant Property Manager are your points of contact. They may be reached at 585-248-3840. Call Crofton to:
submit Work Orders (WO)
ask about the WO process
follow up on a WO you already have submitted
ask about the Variance process
follow up on a variance you have already submitted
if you have a question or concern about a contractor working in the community, or about other maintenance issues.
If you are not satisfied with the response you receive from Crofton, then contact a Board member.
Going on in the Town of Pittsford
DONATE USED BIKES TO THE ROTARY BIKE DROP THIS SATURDAY AT PITTSFORD MENDON HS
The Rotary Club of Pittsford will hold its 9th annual "Bike Drop" on Saturday, May 5 from 9AM – 2PM at Pittsford Mendon High School (472 Mendon Road, Pittsford). Bicycles or bike parts in any condition will be accepted for donation. The bicycles and bike parts will be collected by Pittsford Rotary and donated to R Community Bikes, Inc., a Rochester-based charitable organization that repairs and distributes bicycles free of charge to Rochester's needy children and adults. For those in need, bikes are very frequently the most affordable means of transportation to jobs, schools, churches, rehabilitation and training programs, and meals at local social service agencies.
Take advantage of a great opportunity to spring clean your garage while you help people in need! Pittsford's Rotary Club has collected 1,939 used bikes over the past seven years – can you help them ensure this year's drive is a success? For more information go to www.PittsfordRotaryClub.org or call (585) 733-5856. The Bike Drop is sponsored by Pittsford Rotary, Rotary Interact Clubs of Pittsford, and the Town of Pittsford.
STEIN MART SPRING FASHION SHOW AND TEA
Be sure to save the date for our annual Stein Mart Spring Fashion Show and Tea on Tuesday, May 22 at 12noon at the VanHuysen Senior Center, 3750 Monroe Avenue.  Enjoy Stein Mart's new spring fashions modeled by our lovely senior ladies and handsome senior gentlemen! Lunch includes finger sandwiches, pastries, tea and coffee; cost is $8.00 per person. Advance reservation and payment is required by May 15; call the Senior Center for more information and to register.
RECREATION PROGRAMS CONTINUE AT INTERIM REC CENTER AND OTHER LOCATIONS Program locations include Palmyra Road facility, schools, Library, Senior Center, Town Court
The Spiegel Community Center building has closed for restoration and improvement but our recreation programs continue at the Interim Recreation Center (5611 Palmyra Road) and other locations, including the Pittsford Community Library (24 State Street), at the Town's Senior Center and Town Court facilities at 3750 Monroe Avenue, and at local elementary schools.
Programming at these alternate locations will continue throughout the construction period, which is expected to last for approximately 12-14 months.
Find updated program information on the Town's online Recreation Registration and Information page https://webtrac.townofpittsford.org/wbwsc/webtrac.wsc/wbsplash.html. Information about the Spiegel Community Center project is available on the Community Center Project Updates web page www.townofpittsford.org/community-center-project.
"Pittsford News Courtesy of Town of Pittsford eNews"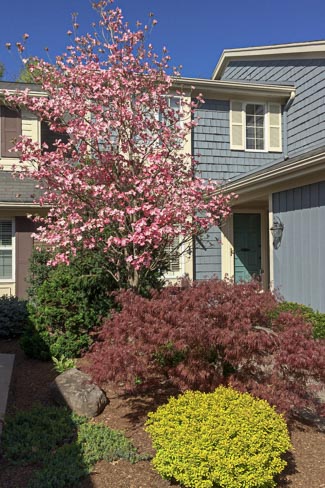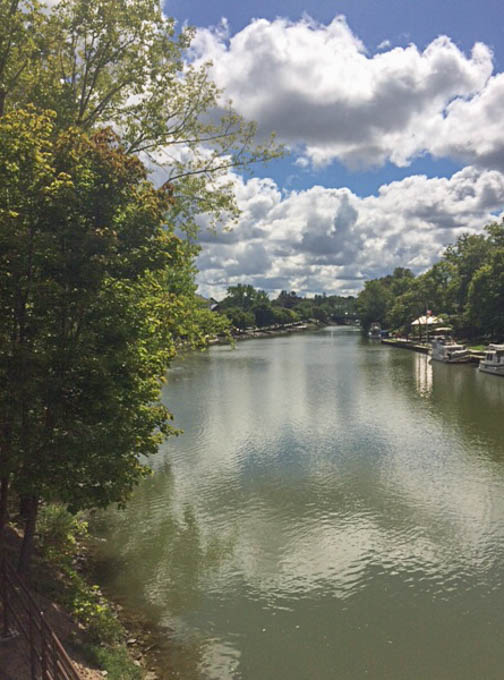 –Photos by Wood Creek Residents
HAZARDOUS WASTE COLLECTION & eRECYCLING IS SATURDAY, MAY 12
The Town of Pittsford's annual appointment-only Household Hazardous Waste (HHW) collection event will again be combined with our Electronics Recycling and Document Shredding program and held Saturday, May 12, in collaboration with the Town of Perinton at the Perinton Highway Garage, 100 Cobb's Lane, from 7:45AM to 1:00PM. Up to 30 gallons of allowed HHW materials per appointment will be accepted at no charge.
Certified document shredding (residential only) will also be available at no charge. To ensure safety and reduce waiting times, appointments are required for hazardous waste disposal; no appointment is necessary for electronics recycling and/or document shredding. Pittsford and East Rochester residents can make an appointment by calling 248-6250, or by going on-line to http://www.monroecounty.gov/hhw. Appointments must be reserved by Friday, May 11. Please note, waste from businesses will not be accepted.
Please note the following fees will be charged (cash only) for recycling televisions and computer monitors with CRT screens: Flat Screen – $5.00; Computer Monitor – $10.00; CRT Television under 27″ – $20.00; CRT Television over 27″ – $40.00; Oversized (Console, Rear-Projection) CRT Televisions – $50.00. Fee payments will be accepted in cash only. More information, including the list of hazardous materials and electronics accepted for collection, can be found HERE.
WOMEN'S CLUB OF PITTSFORD GARAGE SALE & BAKE SALE IS 5/11 & 12
The Women's Club of Pittsford will hold a garage sale and bake sale on Friday and Saturday, May 11 & 12 from 9AM – 4PM at Lehman Farms, 132 East Street in Pittsford (off Route 96). The sale will feature treasures galore from many households – something for everyone! Delicious baked goods will be available for purchase as well – great to share and enjoy on Mother's Day! There will be a half-price sale beginning at noon on Saturday. Proceeds from the sale will benefit the group's charitable efforts; the Women's Club of Pittsford supports a variety of community service projects, educational programs and fund-raising activities to the benefit of those in the Pittsford community and beyond and has contributed almost $300,000 to Rochester area nonprofit organizations serving those in need.